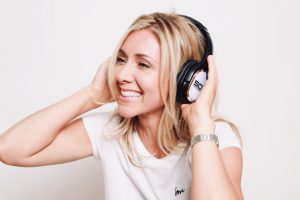 Mindrop founder Gina Hemmings has been in the health and wellness industry for over 20 years, as a qualified hypnotherapist, meditation coach, yoga/pilates teacher, body work therapist, and personal trainer whose reputation with celebrity clients earned her a fitness and nutrition column in The Daily Mirror newspaper and Body Fit magazine.
Before moving to Los Angeles in 2014, Gina previously owned two health and beauty salons—in Kew Gardens, London and The New Forest, Hampshire—and also ran the health and wellness services for the 5* Firmdale Hotel group in London. Her work allowed her to also travel working as a personal trainer and coach on fitness and wellbeing retreats across Europe.
With a wealth of experience working one-to-one with clients and helping them transform their lives both physically and mentally, Gina's focus is now predominantly as a certified RTT hypnotherapist, having trained with Marisa Peer, the world-renowned hypnotherapist in Rapid Transformational Therapy.
Gina works with private clients one-on-one online, as well as offering headphone music/hypnosis for webinar's and group classes. As a meditation guide, she is also a teacher on the Unplug app www.unplug.com  
For Gina's past work and experience view  www.ginahemmings.com
An Explanation of RTT – Rapid Transformational Therapy
People across the world now understand the benefits of therapy. I am a recognized therapist who is proud to display the RTT logo on my website, which I received upon completion of my personal tuition with Marisa Peer. She is the only person that teaches her innovative approach and is endorsed by the General Hypnotherapy Register, the CNHC and many other International bodies.
Rapid Transformational Therapy uses many of the positive features of hypnosis and hypnotherapy that are known to produce a transformative effect on clients, The use of trance, regression and hypnotic conditioning. Where as RTT goes further, identifying what works for individuals to build a new therapeutic approach. I along with other RTT hypnotherapists do not rely solely on positive reinforcement, too often this is the sole focus for hypnotherapists.
While using correct, up-to-date, and relevant language when talking to yourself is certainly a part of any transformation, it serves as more of a reinforcement of breakthroughs, rather than the catalyst of them. With RTT I am able to reach breakthroughs via hypnosis that would not be possible if I were simply trying to reach their subconscious mind via altered language and self-talk. I am also equipped with an array of techniques and tools that are crucial, not just in teaching you how to communicate with your subconscious mind, but also directly accessing and fixing whatever blockages may be there. Central to that is also my ability to help to create a  transformation in many clients in just one cycle of RTT.